Footballer Cristiano Ronaldo knocks off $4 billion from Coca-Cola's value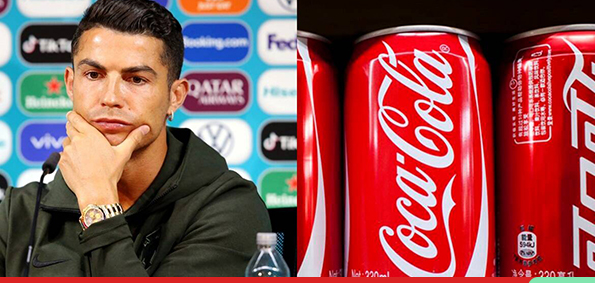 With his gesture of setting aside two bottles of carbonated drinks in favour of water, Cristiano Ronaldo cost Coca-Cola $4 billion. The Portuguese star footballer sat down for the press conference, putting the Coke bottles aside and selecting a water bottle. Coca-Cola saw its stock price plummet from from $242 billion to $238 billion after the football superstar's actions, with the stock value falling from 56.10 to 55.22 dollars in the immediate aftermath of the move.
The 36-year-old, who famously treats his body like a temple and is in remarkable physical condition for his age as a direct result, doesn't like his eldest son Cristiano Ronaldo Jr consuming such products. Cristiano Jr. enjoys crisps, Coca-Cola, or Fanta much to his father's disapproval. With two goals in a 3-0 win over Hungary, Ronaldo became the all-time leading scorer in European Championship history with 11 goals. This latest incident will likely go down as one of the Portuguese forward's more clinical finishes though.